This menu celebrates all the amazing wild foods South East Qld is abundant with .. It will be a great night to bring along your international visitors.

The wild foods theme for the 1st April Pop Dinner on April 14th is also recognising the role sourcing wild foods can play in supporting Indigenous owned businesses and reducing our carbon and farming footprint. Book Here
Thanks to First Food Co and FoodConnect for helping source genuinely sustainable local produce.

Support sustainable local fare - sample produce from small farms and producers in the region - mingle with friends and locals - meet and listen to the stories of your local producers - all with the back drop of local jazz musicians
- Come and enjoy our Autumn Twilight Evenings, mingle with friends and locals and enjoy our amazing meals showcasing the best of local organic and/or sustainable producers from our beautiful region.
- Meals are designed as share plates and share platters and will be served to you as a series of 6 delicious mini courses through the evening.
- We have long large tables and your group will be seated alongside other diners on the same table.
- The night kicks off with a complimentary glass of organic champagne.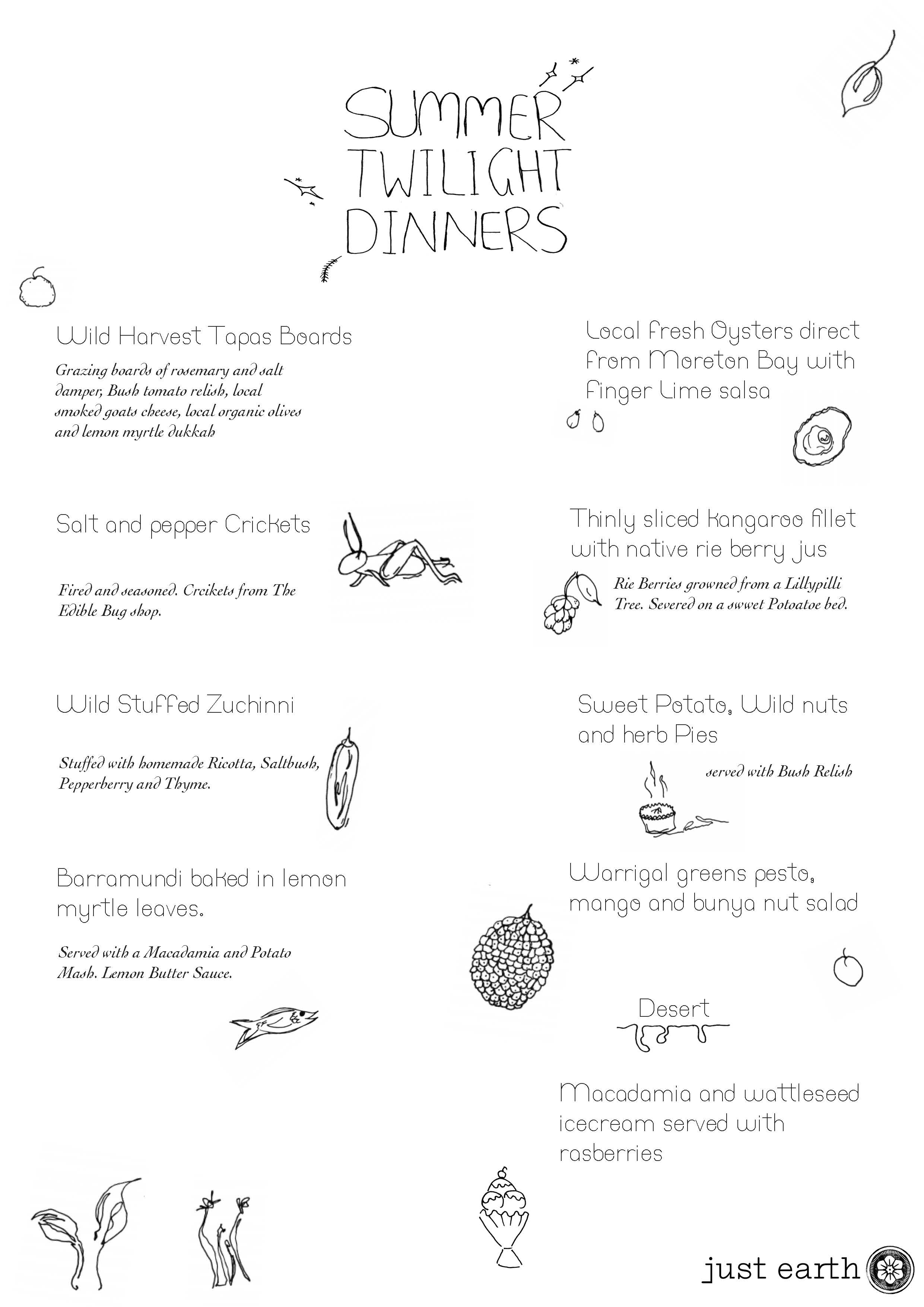 Local fresh Oysters direct from Moreton Bay with finger lime salsa
Salt and pepper crickets .. yes crickets!
Grazing boards of rosemary and salt damper, Bush tomato relish, local smoked goats cheese, local organic olives and lemon myrtle dukkah
Warrigal greens, rie berry and bunya nut salad
Wild Stuffed Zuchinni
Thinly sliced kangaroo fillet with native rie berry jus
Barramundi baked in lemon myrtle leaves and macadamia mash
Sweet potato and yam pie with native mint
Macadamia and wattleseed icecream served with native rasberrys Book Here